A thriving social media page might be the missing link between your business and success. By launching a social media marketing campaign in Singapore, you can attract more customers, grow an audience, and establish your credibility.
When it comes to social media marketing, you have to choose from various networking platforms. The most popular options include Facebook and LinkedIn.
Facebook and LinkedIn are excellent choices for promoting your business through social media marketing. Facebook is home to more than 2 billion users worldwide, while LinkedIn is the world's largest professional network.
However, part of effective social media marketing is choosing the right platform for your business. Facebook and LinkedIn are vastly different in terms of design and aesthetics, so you have to choose between the two networks depending on a few factors, such as your target audience, budget, and goals.
THE PROS AND CONS OF FACEBOOK MARKETING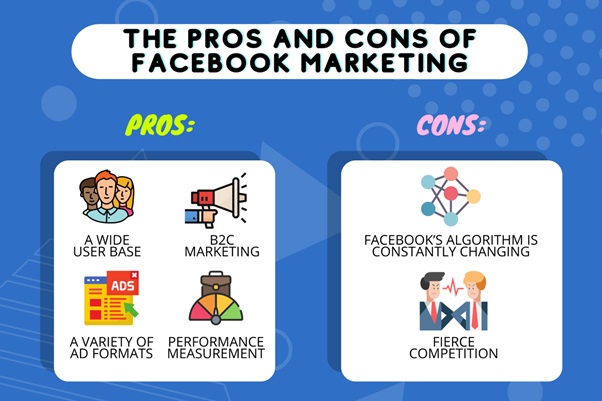 Facebook is one of the most popular social media platforms worldwide for many good reasons. One reason is that Facebook has tons of user-friendly features. You can set up a social media management page in Singapore to promote your products, while hundreds of customers can follow you on Facebook to know more about your business.
Another reason is that Facebook is accessible to a wide range of audiences. From teenagers to older adults, billions of people worldwide use Facebook to connect with others.
Furthermore, Facebook is evolving into a social media shopping platform. In 2020, Facebook, Inc. introduced Facebook and Instagram Shops, which allows you to create product listings on Facebook and Instagram. As a result, Facebook and Instagram users can now use the said platforms to grow a business and make profits.
When it comes to social media marketing and eCommerce, Facebook is one of the most versatile platforms. Also, Facebook has more active users than LinkedIn, which means you can reach a broader audience.
However, like all other social media networks, each platform has its pros and cons. Here are some of the advantages and disadvantages of using Facebook marketing.
THE PROS OF FACEBOOK
PRO #1: A WIDE USER BASE
As mentioned earlier, Facebook is home to 2 billion users worldwide, making it one of the most active social networking sites. Moreover, Facebook continues to grow with a 12% increase in users year after year, so expect the number of users to rise in the future. You can reach a broader audience compared to other social media marketing channels.
PRO #2: B2C MARKETING
If you are going for a business-to-consumer (B2C) approach, Facebook is a perfect choice. Many business owners use Facebook to promote their products to consumers for many good reasons.
For starters, Facebook has thousands of active users daily. Besides browsing through their news feed, Facebook users also utilise the app for online shopping. Facebook's marketplace is continuously growing, as proven by 26% of people saying they purchase products on Facebook.
Try creating a campaign for a custom audience to retarget audiences who have visited the company's website, used the company's app, or engaged with the company's Facebook page.
PRO #3: A VARIETY OF AD FORMATS
In terms of ad formats, Facebook is the leading social media network. You can choose from various ad formats that will help you get closer to your target audience. When creating a Facebook marketing campaign in Singapore, you have a wide range of ad formats, such as:
Image ads
Video ads
Carousel ads
Collection ads
Each ad format offers unique ways to engage with your audience. Choose an ad format that will help Facebook users discover your products or services.
PRO #4: PERFORMANCE MEASUREMENT
Facebook's extensive set of metrics is another reason why many marketers prefer Facebook over other social media marketing platforms. With Facebook, you can measure your ad performance and see how well your ads are doing.
Facebook considers specific metrics when measuring your performance, such as:
Engagement
Clicks
Impressions
Reach
Click-through rate (CTR)
Cost per action (CPA)
Cost per click (CPC)
These metrics are vital for measuring your ad performance. Analyse your campaign based on these metrics to determine the next best course of action. Measure your ad performance regularly to find out how you can improve your campaign.
THE CONS OF FACEBOOK
CON #1: FACEBOOK'S ALGORITHM IS CONSTANTLY CHANGING
Facebook's algorithm has evolved in the past few years. As a result, advertisers and marketers have encountered difficulties in becoming more visible on Facebook. Countless business owners have found it hard to keep up with the constant algorithm changes, thus making it more challenging to maintain high web visibility on Facebook.
CON #2: FIERCE COMPETITION
In recent years, more and more Facebook ads have been cluttering Facebook's content space. As Facebook continues to grow, so does the level of competition for businesses. Expect more paid ads to compete with one another, which will make it harder for you to boost your organic reach on Facebook.
In summary, Facebook is a highly versatile social media marketing that can help your business raise brand awareness and attract new customers. Despite its few flaws, there is no doubt that Facebook offers more benefits than drawbacks.
THE PROS AND CONS OF LINKEDIN ADVERTISING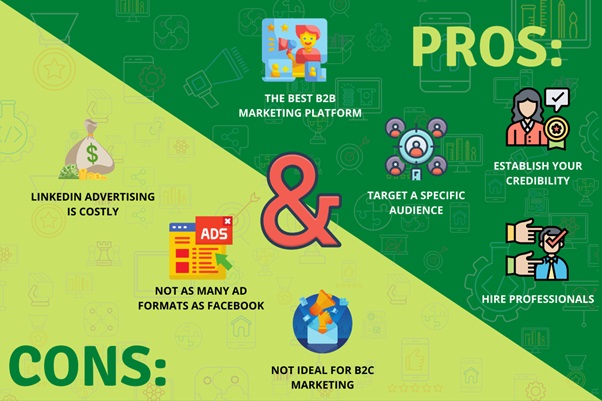 While LinkedIn may not boast billions of users like Facebook, it still has a user base of more than 740 million people worldwide. LinkedIn has one thing that other social networks lack: connecting with other businesses and entrepreneurs.
Facebook offers options to promote your brand through B2B marketing, but its specialities lean towards the B2C approach. But with LinkedIn, you can establish connections with thousands of other businesses, making it the perfect place for B2B marketing.
Also, like Facebook, LinkedIn is constantly evolving. LinkedIn introduced a Stories feature in 2020, similar to the same one provided by Facebook and Instagram. Although it may not seem like a significant improvement, it is still an update worth considering. You can share a LinkedIn Story and let followers know more about your business.
THE PROS OF LINKEDIN
PRO #1: THE BEST B2B MARKETING PLATFORM
When it comes to B2B marketing on social media, no other platform is arguably better than LinkedIn. It is home to thousands of communities joined by entrepreneurs and business owners. You can use that to your advantage and establish relationships with other businesses and potential clients.
Connect with potential clients or partners on LinkedIn to establish your reputation and improve your online presence. Besides promoting your business, you can also use LinkedIn as a content marketing platform to share valuable information with interested readers. In the long run, it will help you establish your credibility. More and more people can trust you if you consistently share quality content.
PRO #2: TARGET A SPECIFIC AUDIENCE
If you want to target a specific audience, then LinkedIn has you covered. LinkedIn's targeting options allow you to customise your LinkedIn advertising campaign for an audience. You can reach out to people specifically based on a few factors:
Location
Company name
Job title
Industry
Interests
PRO #3: ESTABLISH YOUR CREDIBILITY
All social media networks are excellent for improving web visibility, but LinkedIn is the most viable choice for building your reputation. Your LinkedIn profile can serve as an extension of your website and let users know more about your business. Grow an audience on LinkedIn to establish your credibility and maintain a professional online presence.
PRO #4: HIRE PROFESSIONALS
Besides promoting your brand, you can launch effective LinkedIn ads in Singapore to find qualified candidates for your business. Most companies use LinkedIn to recruit employees, and perhaps you could do the same.
Join communities and look for potential candidates who could help your business grow. You can even use LinkedIn's advanced targeting system to look for more qualified candidates. Doing so should make the recruitment process a whole lot easier.
THE CONS OF LINKEDIN
CON #1: LINKEDIN ADVERTISING IS COSTLY
The average CPC for LinkedIn ads is around 7 SGD, which is more expensive than Facebook's average CPC of 1.29 SGD. Compared to Facebook, LinkedIn advertising is definitely more costly. Create a budget and campaign plan to target the wide pool of quality audiences if you decide to promote your business on LinkedIn.
CON #2: NOT AS MANY AD FORMATS AS FACEBOOK
LinkedIn has several types of ad formats. However, Facebook still offers a few more advertising options compared to LinkedIn. Facebook is nonetheless a winner by a short margin, thanks to unique and interactive ad formats, including Slideshow, Playables, and Canvas.
CON #3: NOT IDEAL FOR B2C MARKETING
If your goal is to connect with consumers, LinkedIn may not be a good choice for your business. LinkedIn specialises in establishing networks and connections with companies and enterprises, so it might be a better idea to try other social media platforms.
LinkedIn is not as versatile as Facebook when it comes to ad formats, but it is the superior networking platform for building connections with businesses. Consider using LinkedIn for advertising and marketing if you wish to develop a professional brand image.
FACEBOOK VS LINKEDIN: 5 FACTORS TO CONSIDER BEFORE CHOOSING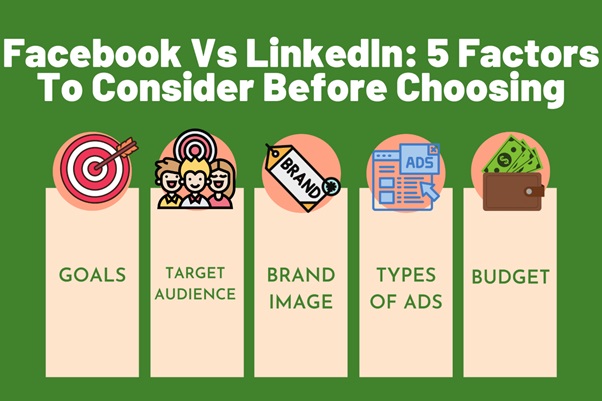 There is no one-size-fits-all approach to social media marketing. The success of your campaign begins with choosing the right social media platform.
Now that you learned more about Facebook and LinkedIn, which should you use for social media marketing? Before you choose, there are a few things you need to consider.
1. GOALS
Defining your goals is a crucial first step to planning your social media marketing campaign. Before choosing Facebook or LinkedIn, you need to decide on setting your goals at the very beginning.
Is your goal to raise brand awareness? Perhaps you should choose Facebook. What if you want to establish connections with others? In that case, LinkedIn might be a perfect choice.
Your goals shall determine the type of social media network that is ideal for your business. Plan early and define your goals to know whether Facebook or LinkedIn will be the best choice for your marketing campaign.
2. TARGET AUDIENCE
Another determining factor is your target audience. Facebook and LinkedIn are vastly different from each other when comparing the types of users and age groups. Facebook caters to a broader audience, while LinkedIn users consist of entrepreneurs, applicants, and business owners.
Conduct some research and know more about your target audience. Doing so should help you choose between Facebook and LinkedIn.
3. BRAND IMAGE
The goal of every social media marketing campaign is to build a strong brand image. Choosing the right social media site should help you reach that very same goal. But between Facebook and LinkedIn, which one is the better choice?
The answer depends on the type of brand image you want to build for your business. LinkedIn is a good platform for building a professional brand image, while Facebook offers more creative opportunities to establish a persona.
4. TYPES OF ADS
Which types of ads are relevant to your target audience? Ask yourself this question to know how you will reach your target audience. Ultimately, Facebook offers more variety of content, giving you more freedom to choose. LinkedIn still presents several ad formats, just not as many as Facebook.
5. BUDGET
Some marketers say LinkedIn is more expensive than Facebook. In some ways, it is true. Most LinkedIn ads cost more than Facebook, but that does not mean Facebook is the more affordable option. Your expenses will ultimately depend on how well you manage your budget.
CONCLUSION
In the end, Facebook and LinkedIn both have pros and cons. Neither is entirely better than the other. The better choice for your business will depend on your goals and target audience.
Take your time and define your goals early on. Think of the kind of brand image you want to build, and research your target audience. Planning is a vital part of social media marketing, so focus on creating an outline and layout for your marketing plan first.
Get in touch with a trusted social media marketing agency to know which networking platform is perfect for your business.